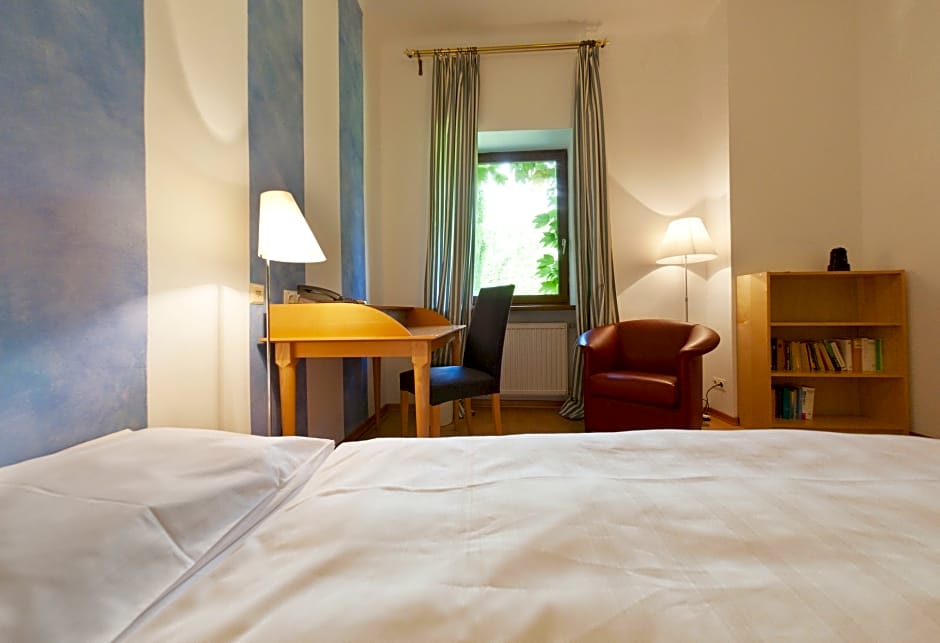 The Hotel Kunsthof is a 3-star hotel situated in Vienna's 2nd district, near the Prater, only 300 metres away from the Praterstern underground station and just minutes away from the vibrant city centre, the Austria Center Vienna (conference centre) and the UN headquarters.

Offering complimentary WiFi access, this charming hotel harmoniously blends an inspiring art gallery with contemporary hotel comfort.

At Hotel Kunsthof, guests can request a tasty full English breakfast, which can be accompanied by a refreshing sparkling wine. Breakfast can also be enjoyed in the hotel's green interior courtyard.

In addition, guests can unwind at the chill-out lounge or in the lobby bar.

Furthermore, the Kunsthof is ideally positioned within immediate range of the Viennese Exhibition Centre (Messe Wien) as well as the Prater recreation area and Vienna's Giant Ferris Wheel.
予約する方法
Hotel Kunsthofで予約するのが簡単で安全でございます。ご希望の日付を選択します。そして、フォームを送信するために「料金を確認し」というボタンをクリックします。 客室タイプと料金はお宅の画面に戻った後で、画面の中央にある部屋の情報を読むと画面の右側にある「予約する」というボタンをクリックすることによって希望の料金を選択することができます。希望の客室タイプを選択した後で、「ご予約を完了」というフォームに転送されます。その時に「滞在の詳細」を確認して、「ゲストの詳細」という部分の空欄でご自分の詳細のことを書きます。ご自分の名前とメールアドレスが正しく入力されていることを確認してください。 すべての重要な情報を記入した後で、「ご予約を完了」というボタンをクリックしてください。ご自分のセキュリティを確保するために、私たちがクレジットカード番号を暗号化し、非使用可能な形式にエンコードする安全なコマースサーバーを使います。
地域情報
空港

Vienna, Austria (VIE-Vienna Intl.)

- 9.81 mi

Bratislava, Slovakia (BTS-M.R.Stefanika)

- 37.51 mi

ミュージアム

Wien Museum Johann Strauss Wohnung

- 0.34 mi

Planetarium

- 0.41 mi

Wien Museum Pratermuseum

- 0.41 mi

Atelier Augarten (Gustinus Ambrosi-Museum)

- 0.42 mi

Osterreichisches Circus-u Clownmuseum

- 0.52 mi

Bezirksmuseum Leopoldstadt

- 0.52 mi

KUNST HAUS WIEN - Museum Hundertwasser

- 0.58 mi

Kunsthaus Wien

- 0.59 mi

Museum fur angewandte Kunst Wien

- 0.97 mi

MAK Austrian Museum of Applied Arts / Contemporary Art

- 0.97 mi

Museum of Applied Arts

- 1.01 mi

Bezirksmuseum Innere Stadt

- 1.04 mi

Dom- und Diozesanmuseum

- 1.08 mi

Wagner:Werk Museum Postsparkasse

- 1.09 mi

Puppen- und Spielzeugmuseum

- 1.13 mi

Uhrenmuseum

- 1.14 mi

Feuerwehrmuseum

- 1.15 mi